Product Description
Standard brass insert. In zinc-plated steel on request.
Useful in specific applications, for example, asynchronous single phase motors.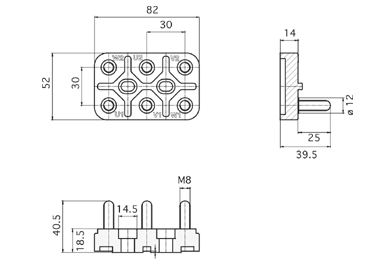 TECHNICAL DRAWINGS, INSERTS AND SMALL PARTS AND, ON REQUEST, REFERENCE STANDARDS.
Insert M8

Uni 5541-65 / 5542-65 / 4535-64

Nut M8

Din 934 = Uni 5588

Washers M8

Din 125 = Uni 6592

Plaques M8 hole-to-hole 30 mm

No Specific standard; for the minimum ticknesses Din 125 is used as the reference standard

Terminal boards without official UL certification but in any case produced using material recognised by the Underwriters Laboratories in file E111031
The kit can be made up according to request and requirements. In all cases the kit can be supplied in one package or separately in individual bags.